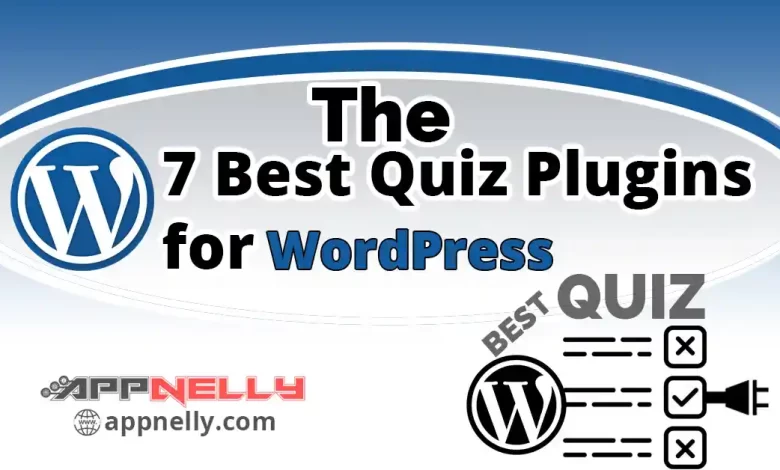 If you're looking for the best Quiz plugins for WordPress, you're in the right place. in this post, you'll see our top 7 Best Quiz Plugins for WordPress after testing many other similar free and premium plugins.
Introduction
Quiz is a test of knowledge, especially as a competition between individuals or teams as a form of entertainment.
Quiz plugins for WordPress let you create and manage online quiz in your WordPress website.
There are many quiz plugins for WordPress but knowing the right one that is best suited to your need will require lot of time in research and testing especially non experienced users which is why we believe this post will be helpful to anyone looking for the best WordPress plugins for quiz.
Some time ago, we tested many premium Quiz plugins for WordPress and was satisfied by only 7 plugins.
The 7 Best Quiz Plugins for WordPress are: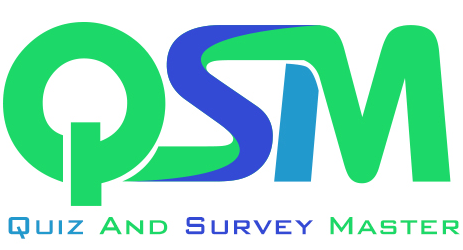 Quiz and Survey Master (QSM) is the number 1 Best Quiz plugins for WordPress. it's a WordPress plugin that can turn your static or dynamic WordPress website into an engaging powerhouse.
It Engage Visitors
Create thoughtful quiz and surveys for your users and keep them engaged.
Send feedback surveys or polls to your WordPress users
Create an engaging viral quiz or personality quiz.
Add a leaderboard-based quiz for your organization.
It Let You Conduct Tests / Exams
Useful for educators, students, schools and eLearning companies.
Run a test with timer and offer completion certificate.
Create a questionnaire about a topic and test your users.
Use complex score calculation logic for dynamic user experience.
Generate Leads
Create funnels that takes your visitors into next step of your conversion goals.
Offer WooCommerce discount coupons based on the outcome of a quiz.
Create multistep flows based on user feedback.
Connect a survey to email marketing automation tools like Mailchimp, Convertkit, etc.
---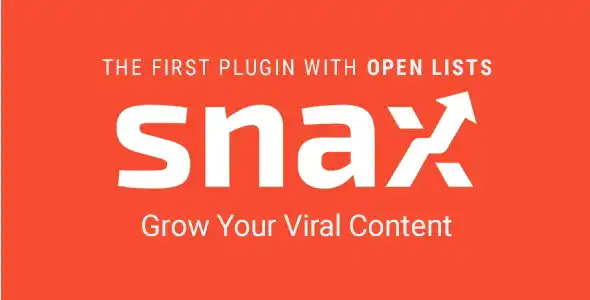 Snax – Viral Content Builder is the 2nd best Quiz Plugin for WordPress. it's a WordPress Plugin that lets site visitors (frontend) and editors (backend) create quizzes, polls, lists, memes and other viral content.
Frontend interface
Let users create posts themselves
Dead-simple front-end uploader
Users can log in/register using most popular social networks
Users can upvote or downvote every submitted content
Integrated pagination
Integrated social sharing buttons
Integration with WP QUADS plugin for custom ad locations
Custom widget for displaying recently updated lists
Backend interface
Create posts using backend interface
Role based access (by default for admins and editors)
Create quizzes
Create polls
Convert standard posts into lists
---

Quiz Maker plugin allows you to create powerful and engaging quizzes, tests, and exams within minutes. This WordPress plugin offers dozens of options to build fully customizable and advanced level exams. 
You can build an unlimited number of quizzes and questions. No limit on the count of participants taking the test at the same time. It has a responsive design and user-friendly interface: your website visitors will love to take your quizzes.
PayPal integration
Make money with Quiz Maker. Easy steps for connecting your PayPal account. Set different prices for different quizzes.
Copy content protection
Do not allow the user to copy and paste question into the translator or google. Make your exams and quizzes harder and more objective.
Question weight/points
Set different points for questions. There can be hard and easy questions in the same quiz. The score will be counted accordingly.
Answer weight/points
Make Personality quiz by defining different points for answers. Allow to make complicated quizzes.
Send certificate
Send Certificates to those users who pass the exam. Set a high score for getting a Certificate. Individual details printed in the Certificate.
Export and import questions
Save time, import your questions. Three types of exporting/importing – CSV, XLSX, JSON. It makes easy to transfer questions from staging to production.
Export results
Export the users' results in the CSV file. Filter the content by Users, by Quizzes, set dates From and To.
Results with charts
Presents results for all quizzes together and for each quiz separately with beautiful and responsive charts.
Send mail to user
Send mail with details to the user email. It will contain duration, score, personal details and report with questions and answers.
Send mail to admin
Send mail to admins to notify about passing a quiz. It will contain duration, score, personal details and report with questions and answers.
Show message according to result
Provide different messages according to the user's score. You can divide 100 percent into as many intervals as you want and set different messages and pictures for them. And also different WooCommerce products.
Custom Form Fields
Ask users for personal information before or after the quiz. Make custom form fields besides name and email. 5+ field types supported.
WooCommerce integration
Show different WooCommerce products according to the score. Need to have installed the WooCommerce plugin.
User page shortcode
Copy and paste the shortcode into the user page for showing passed quizzes history to the user. It will print a solid table with user data.
User roles permissions
---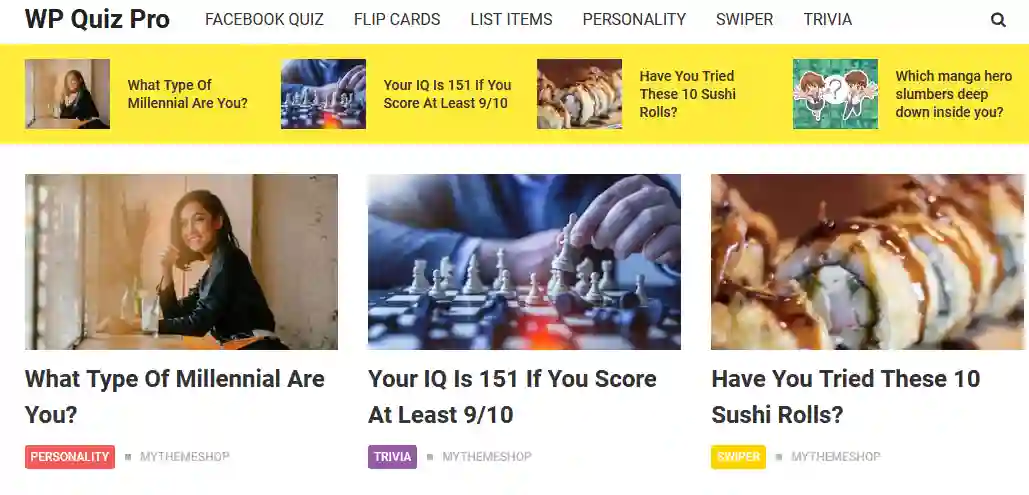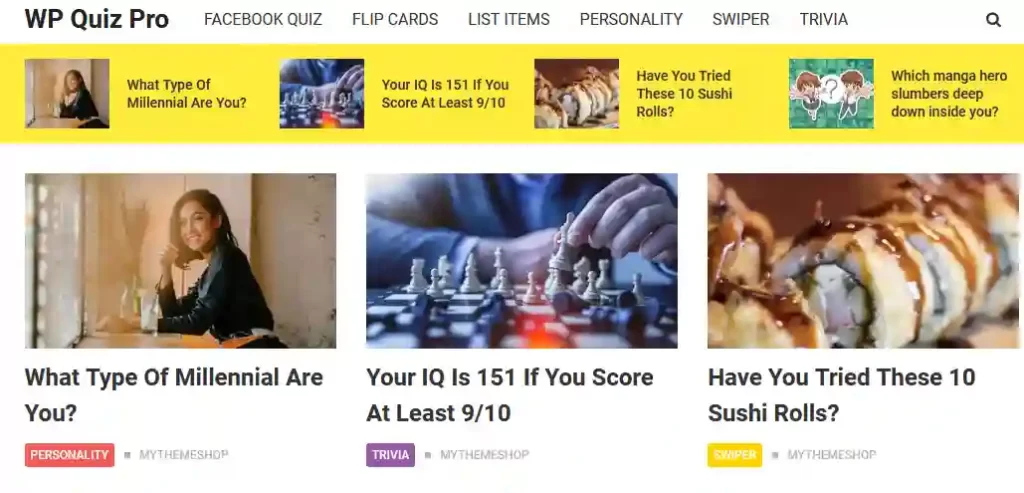 WP Quiz is a wp plugin that lets you Create interactive Quizzes that people love to take and share with their friends. It is a perfect way to go viral in 2019 and beyond.
Features WP Quiz
Increase the Viral Traffic
Quizzes have proven to be a source of unlimited viral traffic. Tap into that traffic by creating a quiz of your own.
Collect Email Addresses PRO
Ask users to optin before starting a quiz or before getting their quiz results. You will have a huge email list before you know it.
Increase the User Engagement
Engage your visitors on your website and improve your bounce rate by having users glued to your pages.

Reduce the Bounce Rate
Users taking a quiz tend to stick to your website until the conclusion of the quiz. This helps reduce the bounce rate by a huge margin.
Create Trivia Quizzes
Create trivia quizzes that will make your visitors scratch their head and try to get every answer right in one try.
Take Online Exams PRO
With WP Quiz, it is not just fun. You can use the plugin even to create professional level exam papers.
Create Personality Quizzes
Let users determine what type of personality they have by having a unique personality quiz on your website.
Take Surveys PRO
Take Surveys PRO
Convert a quiz into a poll by having visitors vote on an option and taking part in your survey.
Create Fun Facebook Quiz Site PRO
Turn your website into a full-fledged Facebook quiz site.
Create Interactive List Posts PRO
Create a Quiz with a list that users can vote up and down to move the options within the quiz.
Increase Subscribers PRO
Gain more subscribers by asking them to give up their email ID before starting a quiz or before they can see their quiz results.
Earn More
Make money by showing an ads
---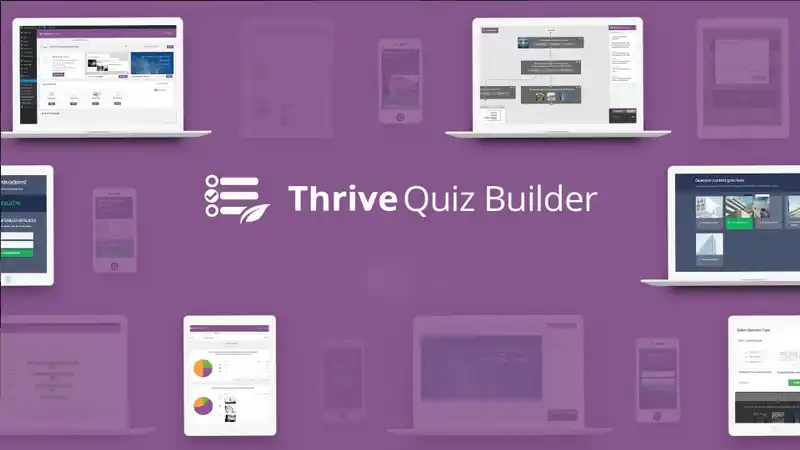 Thrive Quiz Builder which is also available with the Thrive Suite membership or as a standalone plugin subscription – is an amazing quiz builder.
It will help you easily create beautiful and complex quizzes to engage and grab the attention of your visitors without needing to know how to code or work photoshop.
However, the real power of Thrive Quiz Builder happens underneath the surface of the engaging quiz. Because what you really want is to be able to take advantage of the all-extra attention the quiz can generate.
What would it mean for your online business if you could create an irresistible quiz your customers couldn't wait to consume?
There's no time to learn the design and dev skills needed to build a quiz that meets your high-quality standards. Create Stunning Quizzes in Seconds that Look Like They Took Hours to Code
Some features of Thrive Quiz Builder
Thrive Quiz Builder makes it extremely easy to visualize what your quiz looks like and how it flows in the quiz builder window. 
Easily see all the questions, answers and their flow so your quiz works like you want it to.
Build branching quizzes where you ask different questions based on the previous answer.
Choose between text or image questions.
The setup wizard will walk you through each step so you don't forget anything.
The troubleshooter will alert you if something is missing or stops working so you can quickly fix the problem.
To get people excited about sharing, you need to give them something share-worthy. Something that looks professional and cool.
Create badges people will actually want to share.
Forget margins, padding and CSS – move elements anywhere without restriction.
Upload images, resize them, add text with any formatting, set background color and opacity to get the exact look you want.
Built in social media sizing. Choose Facebook and the badge will be optimized for Facebook.
---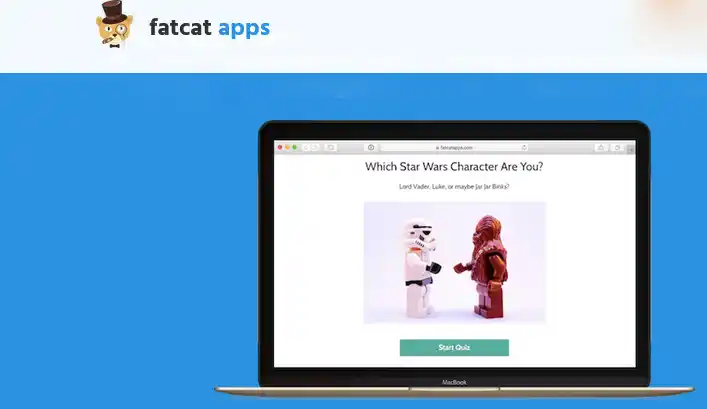 QuizCat lets you build highly engaging quizzes anywhere on your WordPress site within minutes – no technical knowledge required. 
Create awesome quizzes to entertain and get to know your audience, boost shares on social media, or get more traffic, leads and email subscribers.
Entertain Your Visitors with a Fun Quiz They'll Love
Quiz Cat helps your content stand out from the crowd by adding fun and interactive quizzes to any page on your site.
Quizzes are highly engaging content with a huge chance to go viral.
People love getting to know themselves and finding out how smart they really are. Entertain your audience with beautiful, fun quizzes they love to fill out and share.
Get More Leads & Email Subscribers
Want to grow your list? Just ask for an email address before people can see their results of your quiz.
Looks Great on All Devices
They're fully responsive and you can embed them on any page or post you want. No matter what device your visitors use.
Create A New Quiz in Just a Few Simple Clicks
Creating a new online quiz is simple and only takes a few minutes. Choose the type of quiz you want to make, type out your questions and answers and your quiz is ready to go.
You can embed a quiz on any page or post you want with the WordPress Gutenberg editor or a simple shortcode.
Create any quiz you want in just a few simple clicks – no technical knowledge required.
Powerful Integrations & Automations for Advanced Marketing
Take your marketing to the next level by automatically processing all data your quiz collects.
You can send quiz results or new email addresses to your email provider as tags, merge fields or other advanced options.
Boost Social Shares & Get More Traffic
Quizzes are a great way to get engagement and go viral on social media with popular quizzes being shared thousands of times.
Quiz cat makes sharing your quiz as simple as pressing a button.
Each quiz comes with built-in buttons your visitors can click to share their results on Facebook, Twitter, Pinterest and email along with a catchy description.
Build a quiz your visitors love and they will share their results (and your website) with all their friends with a single click.
---
Modal Survey WordPress Poll, Survey & Quiz Plugin provides the opportunity to hear your visitors' voice through attention grabbing polls. 
Unlimited surveys, questions and answers helps you to get any information, then display the results through stunning progress bars, beautiful pie charts or simple text display formats.
The plugin can visualize all questions on the same graph to display the aggregated survey results. It should be perfect to check the effectiveness of a Support Team or any other Company activities.
Features of Modal Survey – WordPress Poll, Survey & Quiz Plugin.
Features of Modal Survey – WordPress Poll, Survey & Quiz Plugin
Trivia Quiz one of the most popular quiz style nowadays on the social networks. 
The idea behind this poll to get lot of traffic, especially from Facebook.
The plugin offers a share button to post the individual quiz results with specific image to Facebook based on the answers.
With this BuzzFeed kind of quiz, that using personal content, the traffic of your website can be increased quickly without spending lot of money for advertising.
Entertain your visitors with a quiz could be also a great option to create pages, that more likely will be shared on the social networks, including Facebook or Google Plus.
The quiz timer can be set as a general quiz timer or a question timer to make your quiz more exciting.
Create appointment or use the Date answer to get an exact day for any purpose, such as notification, meeting or reserving.
Increasing the sales with Product Recommendation Polls is so easy. 
The plugin support conditional statements, that allows you to display a specific message or redirect the browser to any page based on the survey answer scores.
Supports Business Evaluation Tests or even Personality Tests with categories, that can be displayed on different chart types. Both of the answers and questions can be organized to categories, then the chart will display the results based on the category scores.
Easy to add individual chart based on the user's score, rating or correct answers at the end of the WordPress survey. It provides attractive and useful visual display about the given answers.
It offers a total of 6 different WordPress poll chart types, excluding the further styles to show the WordPress questionnaire results, like Progress Bar, Line Bar the Text Format. and more.
---
These are the 7 Best Quiz Plugins for WordPress in our opinion.
Please note that some of these quiz plugins have their free version which you can install from your WordPress dashboard.
If you think there's a Quiz Plugin for WordPress that should be in this list, you can suggest it in the comment, if convinced will feature it in its position as we regularly update our posts.
So, which of these Quiz Plugin is your favourite? Please let me know in the comment.
Read Also, the 7 best plugins to create polls on your website
Disclosure: Some of the link in some of our posts are affiliate links. This means if you click on the link and purchase the item, we may receive an affiliate commission. more info coming soon.